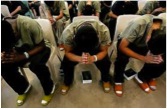 Youth Corrections Outreach
In Brazil's state of São Paulo alone, there are roughly 20,000 adolescents and teens, 96% males, in correctional facilities. Project Zadok has a two-part mission: (1) to engage these youth within the correctional facilities with a combination of Bible Study and mentoring; and (2) to support their reintegration into society.
Wise Choices & Wise Friends
"If you become wise, you will be the one to benefit. If you scorn wisdom, you will be the one to suffer." (Proverbs 9:12).
The focus of each Project Zadok team is to give youth in these correctional facilities the tools to live disciplined and successful lives upon their release. Through teaching and mentoring, these young people are encouraged to avoid and resist the temptations that threaten to lead them back into a life of crime. The Project helps them to understand what is right, just and fair, and choose that narrow path in the future.
Training and Mentoring (while in custody)
Through teaching, testimonies, object lessons, Bible study, activities and one-on-one counseling while youth are at the correctional facility, Open Arms seeks to impart insight, knowledge, and discernment to youth who have lost their way.
A Life-Line on the outside
According to Project Zadok founder and former inmate Eduardo de Mello Ribeiro, the most critical period for these youth upon release is the first three months. "After about three months of resisting the temptation of returning to drugs and crime my so-called 'friends' stopped coming around. Had it not been for my new-found faith and friends from Open Arms, I don't think I would have made it." To help in this transition, Project Zadok provides a "life-line" by being available to youth upon release and encourages them to become involved in Open Arms' community-based projects and other programs, where they can become part of a new Christ-centered life.
How can you participate?
There are at least three ways you can help enable on these young people to discover a different path, one toward hope and a future.:
Provide a Bible – Each Bible costs Open Arms only $5 and includes contact numbers, and a reading plan, to encourage these youth to stand strong.
Fuel – The correctional facility is a 45 minute drive from OA's headquarters. Your gift of $40 per month allows our team to make those trips.
Sponsor a new or expanded Zadok Project for the year – For $4,000 ($333/month) you, your church, business, or civic organization can fund a Zadok Project over an entire year, either through expansion of an existing Project or establishment of a new Project at an additional correctional facility.
---
---