Location: Candido Mota, São Paulo – Brazil
Mariane's story
When Mariane, "Mari" was just 13 years old, her mother was diagnosed with a life threatening disease.  The fear of the unknown drove Mari to call out to God in desperation to save her mother and change her family's story. Shortly afterward she went to stay with an uncle and aunt while her parents traveled to another city for medical exams. She attended church with them during this visit and fell in love with the dance ministry that she saw there.  She pleaded with her mother to allow her to attend the church and was eventually allowed to go.  Mari began attending the Evangelical Church of Biblical Revival in Guarulhos – Sao Paulo and there had a personal encounter with Jesus Christ and received Him as her Savior.  Mariane's mother was eventually cured of her disease and has since come to faith in Jesus as well.  In her 17th year Mari and her parents moved to the little town of Candido Mota where God would bring another family into her life that would change her path once again.
Mari has been with Open Arms since its beginning in 2006. When founders Mike and Patricia Meyers moved to Brazil with their 3 young children, Mari was just 17 years old and came to their home to help watch their then 3 year old daughter Bela. It didn't take long for Mari to fall in love with the ministry of Open Arms and she has never turned back, serving in almost every one of our Outreach locations at one time or another. She has traveled as part of Open Arms mission teams to other parts of Brazil, been a home visit leader in some very tough neighbors, taught dance, led training seminars to prepare new volunteers, served as project coordinator, and even as Open Arms secretary at their Brazilian headquarters.  Throughout this time Mari has pursued knowledge as well. She completed a course in theology from the South American Theological Seminary, a certificate at the Open Arms Center for Leadership Training, and the "School of Ministry" (leadership) in the Evangelical Church of Biblical Revival – Assis, Sao Paulo, Brazil.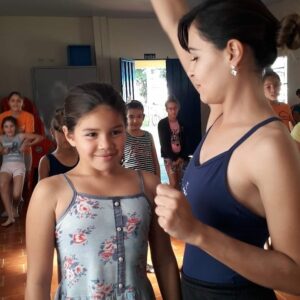 All along her dream has been to plant an Open Arms outreach in her hometown of Cândido Mota and serve full-time in missions. In July 2014 that dream came true. Mari went from being a volunteer to serving as a full-time Agent of Hope working to mobilize the local Christian community to partner with schools and businesses in order to reach children with the message of hope and a future that God has for them.
"My heartbeat is to fulfill my calling to help rescue lives for the Kingdom of Heaven and teach them (children and their families) to be Sowers of the Word."
Support Need
Mari's current support need is for $1,000 $335 per month.
---
---