Florestopolis 2015 – Blessed to be a blessing
From July 8 through July 18, The Bridge Community Church, of Morrisville, NC, sent a team of 7 people to work with Open Arms Worldwide in Florestópolis, Brazil. We partnered with about 20 other missionaries and volunteers from Londrina, Assis, and Florestópolis for a week of teaching, training, and encouraging of the local team in their important work with the children of Florestópolis. We had three main projects during our stay: VBS, a home makeover, and volunteer training.
VBS: We went into the week planning for 80-100 kids and asked for people to donate supplies to work with that number. As we prepared for the trip, many of
the supplies we had asked people to provide (food and crafts) were given in     excess. We almost had double what we needed on some items! Little did we know, God was planning on using it all. Instead of 80 throughout the day, we had about 150 on some days! It was such a blessing to see so many of the children we've come to know and love, but also so many more new faces. During the week, we saw 20-30 kids accept Christ as their Lord and Savior and many more begin to work through some of the struggles they were currently encountering.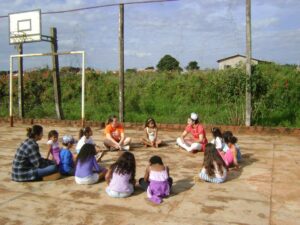 One of the prayers our team prayed as we prepared for this year's trip was that some of the older kids who had "outgrown" the ministry would show up to see us.  Our prayer was that we would have a chance to encourage them to continue walking with the Lord and perhaps reengage as volunteers for the younger children.  Boy did God answer that prayer! There were quite a few older kids who not only showed up one day, but kept coming back!
Home makeover: During the week, we also had the opportunity to help repair a house owned by a family whose twin boys grew up in the ministry and are now apprentice volunteers. We thought it would be a one day project, but as we assessed the house, it became apparent we would need more time. The boys were a little shy and unsure at first about the work being done, but as each repair happened and each wall was painted, you could see the smiles on their faces from a mile away. They were so proud of their house by the end of the week. In total, all of the outside walls of the house received new paint, a fence was repaired and painted, a gate was put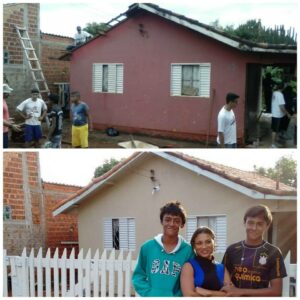 into place, the yard was cleared and cleaned, one section of the roof was fixed, and a fire pit was installed where the family and friends can gather and warm themselves during their winter months (their are no heating systems so the low 50's can feel pretty cold). The team did a great job with the house and sacrificed many hours of being away from the kids. However it was all worth it knowing and seeing how great it now looks and functions for the family.
Volunteer Training: Our team also partnered with the Open Arms missionaries to lead two training sessions for the volunteer leaders in Florestópolis. Our part of the training centered on helping generate creativity in teaching through: 1) object lessons and 2) brainstorming activities. We led them in learning how to develop object lessons so that they could do devotions in creative ways. Essentially, an object lesson is taking a spiritual truth and communicating it through the use of an object. For example, you could use a flashlight to talk about how God's Word is a light for our life. The brainstorming activities part of the training helped the volunteers put together an entire afternoon's worth of activities for the project including crafts, games, songs, and a devotional. The training went well and plenty of volunteers were there to learn, including some of the kids who had grown up in the ministry (A huge praise!).
Lessons Learned: One simple, but overlooked truth that we learned this week is that we can all serve in many ways. Throughout the week we saw people serve in ways big and small, out front and behind the scenes. Open Arms missionary Eduardo Ribeiro did an amazing job teaching, small group leaders led and shared with the kids, people worked at the house, volunteers played with the children, volunteers cooked and prepared 5 meals a day (yes, 5, it's Brazil) for us. Other volunteers drove us around the town, opened up their homes for us to shower when the water went out at the church, and prepared snacks for the kids. Every act of service, big and small, helped support the entire mission. It was truly an honor to be a part of such a servant-hearted team.
Prayer Requests: Please pray that a) the volunteers would find a way to continue to be involved and b) that God would build them into a cohesive team whose goal is to help the children know Him and make Him known in their community. We especially think of the teenagers who grew up in the ministry and ask God to move them to continue the work that was started with them.
Answered Prayers: I would be remiss to not thank God for the answered prayers.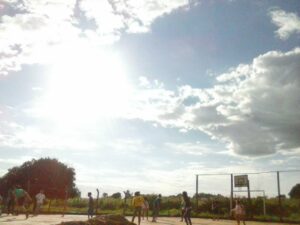 The forecast called for rain, rain, and more rain. Never once did it rain out an activity. Not ONCE!
We prayed for the older kids to come to the project. They did. Awesome.
We prayed for group unity among all the volunteers from different backgrounds, languages, and ages. God answered that and you could tell from all the tears shed when we had to leave each other.
Praise God for the volunteers who came to the training, especially the new ones and the youth who grew up in the project.
All in all it was an amazing week of blessings! Enjoy the photo's & video!


---
---