Eduardo & Claudia Ribeiro
President & Field Director (Open Arms in Brazil)
Objective
"To reach young people with the good news of Jesus in a way they can understand and show them the narrow path that leads to life."
Biography
Eduardo de Mello Ribeiro was born May 30, 1990 in Tarumã and raised in Assis, São Paulo.
Education
Eduardo graduated from the Instituto Educacional de Assis a degree in Physical Education. He has also graduated from the Braços Abertos (Open Arms) Leadership Training Course, Creative Evangelism training with TeenStreet Brazil, and the Missionary Training offered through his sending church.
Home Church & Testimony
As a boy Eduardo became involved with a gang and was eventually arrested on burglary and drug charges and sentenced to time at a juvenile detention center. Upon release he began attending a church youth group and volunteering with Open Arms. He came to Christ through the youth group in 2007 shortly after his release.  Today Eduardo is a member and commissioned missionary of the Independent Presbyterian Church of Jardim Paulista in Assis. He is a leader in the youth ministry of his home church and a teacher of a course, "Creative Evangelism," as part of the Open Arms Leadership Training Program.
Family
Eduardo has been married to Claudia since November 2013.  They welcomed their first child, a daughter, Maria Rita, in early 2018.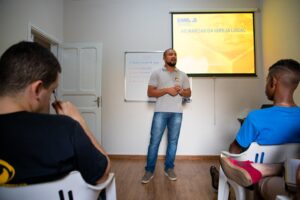 Involvement in Braços Abertos
Eduardo began teaching dance as a volunteer shortly after his release from Juvenile Detention in 2007. In 2008 he traveled with an Open Arms team to northern Brazil to run a children's camp. Since his conversion he has also planted 4 outreach ministries for Open Arms, the latest being Project Zadok, our ministry back into the very Youth Detention facility where he served his time.
Professional Experience
Since beginning as a volunteer with Open Arms in 2007 Eduardo has supported himself as a commercial painter while leading several Open Arms ministries. In 2013 he began serving full-time as a missionary.  In 2014 Eduardo assumed the role of Vice-President for Open Arms in Brazil, and then in 2018, President & Field Director for Brazil.
Support Need
Eduardo's monthly current support need is for $1,250 per month.
Click HERE to support Eduardo now.
---
---