Evandro & Polyana Ribeiro
LOCATION: Assis, São Paulo – Brazil
Evandro's Story
Born July, 1992 in Candido Mota, SP, Brazil, into a simple family.  A few years after his birth his family moved to the nearby city of Assis.  In his childhood and youth he lived in different neighborhoods on the outskirts of this city.  Soccer was always the one constant in his life; training and playing from the age of 8.
Evandro is a member and commissioned missionary of the Independent Presbyterian Church of Paulista Garden in Assis – SP.  Though his mother took him to church as a child, Evandro didn't come to know Jesus as his savior until a group of volunteers from Open Arms began to walk with him when he was 19 yeas old.
Evandro's story with Open Arms started in 2011.  His brother, Eduardo, was serving as a missionary in one neighborhood of Assis and invited Evandro to help out.
"I had never done anything like that. I was challenged to love these kids who were going through the same troubles as I had faced growing up.  I chose to accept that challenge."
He threw himself into the work, began studying physical education at a local college, and assisted in coaching one of Open Arms' soccer teams.  By 2015 it was clear that Evandro was being called into full-time missions.  In 2016 he was commissioned with Open Arms and sent to assist former Open Arms missionaries, Marcelo & Holly Vieira, in the northern Brazilian town of Benevides. In 2017 he returned to Assis and married his sweetheart, Polyana, in December 2018.
THEIR CURRENT MINISTRY
Today they minister together in several neighborhood outreach ministries, as well as leading the BASE program (Open Arms in the schools) in one public school and training new BASE leaders to expand this program.
Polyana is a licensed speech therapist, and in addition to her private practice, is available to attend the children of Open Arms' many neighborhood outreach programs in Assis.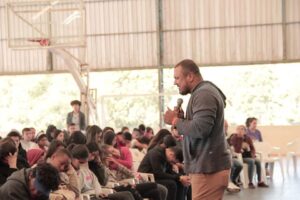 Click HERE to partner with Evandro and Polyana now.
---
---