Swimmers in Action – Learn to Swim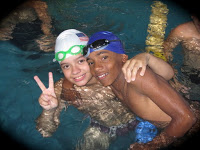 Despite living in tropical climates and near many rivers and lakes, many children who live in impoverished neighborhoods of the developing world do not know how to swim.
Opening Doors
Swimming is an elite sport in most third world countries but through Open Arms "Swimmers in Action – Learn to Swim" Programs, children at risk in Brazil have the opportunity to learn this important survival skill. Through Open Arms' Bible-based teaching and mentoring, they can develop character qualities to help overcome challenges and navigate the "deep waters" of life.
Lucas' experience
"I thank God for the people that introduced me to swimming. I now have a chance to study at a good school and hope to someday go to college."
Lucas is a young man (20 years old) who spent the first half of his life in a shelter for abandoned children. After returning to his family he was soon on the fast track to a life of crime, using drugs, participating in burglaries and carrying a weapon by age the age of 11.
Through the grace of God, Lucas became involved in the Open Arms swim program. Today, thanks to the love and dedication of Open Arms staff and programs, Lucas is studying Law at a local university, participates in his church, and is teaching other Open Arms kids to swim.
Jump in! The water is great!
Pool time, equipment and transportation are all barriers most children at risk confront if they desire to learn to swim. You can help eliminate those barriers by partnering with Open Arms to expand this valuable program to more children today. Here is how it works;
Per Child – For a one time gift of $20 you allow one additional child to participate in and graduate from our "Learn to Swim" program.
Per Year – For $1,200 you, your church, business or civic organization can put 50-60 additional children through our "Learn to Swim" program.
Gifts in Kind – Youth-sized goggles, swim caps, swim suits, kick-boards, towels and swim fins are expensive and always needed to support the children's participation in the program.
---
---