Location:  Aquidauana, Mato Grosso do Sul – Brazil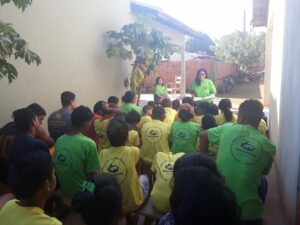 "I want to use the gifts that God has given me in teaching and in ministry to see His kingdom advance among the children of Brazil for as long as He gives me time to serve."
SARITA'S STORY
Sarita came to Christ while as a little girl when she wondered in to a local church to listen to the music and hear the stories.   Her life took a difficult turn that left her on her own as a young teenager.  Unprotected by any adults in her life, she went down a path of poor decisions that led her away from the Lord and into an abusive relationship.  When she had her first daughter, the weight of the responsibility caused her to call out to Jesus.  It was her faith that would sustain her through the death of her first husband, and a second marriage which turned abusive due to depression, alcoholism, and eventually suicide.  After the death of her second husband, Sarita dedicated herself to serving Christ and raising her three children. For many years she has worked tirelessly leading the Children's ministry of her church and subsequently a church plant in a poor neighborhood in her city where Open Arms was a partner.
Sarita has been involved with Open Arms since the first exploratory mission teams were sent to Brazil in 2003 and 2004.  She served as a founding member of the Board of Directors in Brazil.  During a visit to Aquidauana in 2008 she sensed a strong leading from the Lord to move there and initiate an Open Arms outreach project among the children in a poor, mixed indigenous and Brazilian neighborhood.  Open Arms did not have funds sufficient to support her full-time, but Sarita and the Board were convinced the call was from the Lord, and so she went in 2009 as a "tent-maker," working as a substitute teacher and seamstress to support herself and plant a mission.
SARITA'S CURRENT MINISTRY
She has since planted five OA outreaches and currently serves as Regional Missionary for Mato Grosso do Sul where she leads urban and indigenous outreach projects for Open Arms.
To learn more about Agent of Hope, Sarita Romeiro, click HERE.
---
---