Open Arms in the Amazon with Justice & Mercy International
Pastor's Conference Trailer from Peter Philip Von Kahle on Vimeo.
For the third straight year Open Arms has been privileged to participate in Justice & Mercy International's (Justice & Mercy Amazon) annual Jungle Pastor's Conference in the Amazon rain forest just outside the city of Manaus, Brazil.
 President & Founder of Open Arms, Pastor Mike Meyers, along with OA missionary and Vice-president of Brazilian operations, Eduardo Ribeiro, joined an amazing team of teachers and translators for the weeklong conference attended by 88 pastors, missionaries, and their spouses.  The highlight for their time was training more than 20 pastors on the Open Arms program and then loading everyone into a fast boat for a 15 minute trip up river to a nearby community to conduct an afternoon of Open Arms ministry with the children.  What a blast!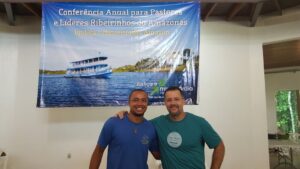 The need is great in the Amazon basin for gospel focused outreach to children.  Please join us in prayer as we seek God's man to establish a missionary base for Open Arms in that region.
---
---