Location: Assis, São Paulo – Brazil
MARCOS' STORY:  Born in the city of Avaré in the Brazilian state of São Paulo in 1982, Marcos had a relatively stable childhood.  Sadly, at the age of 13 Marcos lost his mother and his way.  He began using drugs and involving himself in other criminal behavior.  After being jailed twice for drugs and illegal possession of a firearm, he was moved to the city of Assis, but his drug use continued.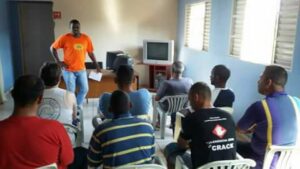 In 2005, homeless, drug-addicted, and involved in petty crime, Marcos came to the end of himself and face to face with Jesus Christ. He found Christ and freedom from his destructive habits at a residential Christian rehabilitation center in his city.  For three years he was discipled in a local church while living in the center.  He eventually graduated the program and was hired as the coordinator of that same center where, for approximately 10 years, he ministered to men trying to break free from addiction by the power of the gospel. He attends and is actively involved in a small local congregation called the Revival of Faith Church.
In 2011 Markinho began volunteering with Open Arms' Zadok Project (youth detention ministry) and came on full-time staff in June of 2018.  His desire is to see young people know Christ, choose the "narrow path," that leads to life, as well as to see Jesus rescue those who, like him, chose the path of sin and death.  Marcos, as a man of God who has struggled and suffered as these young people have, is uniquely positioned to share the transforming Gospel of Jesus with them.  His common experience opens doors into their reality and provides a glimpse of the hope that God is offering them in Christ.
MARCOS' CURRENT MINISTRY: Today, Marcos ministers full-time in several marginalized neighborhoods in Assis, Brazil. There, he works with at-risk children and youth, many of whom are physically and emotionally abused by families who are heavily involved in drugs and crime. His work includes overseeing neighborhood programs where children are loved and cared for as they learn about the love of Jesus through biblical principles they can apply in their homes and communities. Marcos' ministry there also involves home/family visits, sports programs, food distribution and biblical counseling while forming partnerships with healthy local churches. Additionally, Marcos co-leads Project Zadok, an outreach at a youth correctional facility which was started as a ministry of Open Arms in 2011. His ministry there engages incarcerated youth through mentoring and Bible study with the goal of reintegrating them as agents of hope in their families and communities once they are freed. Many incarcerated youth have already given their lives to Jesus through this project.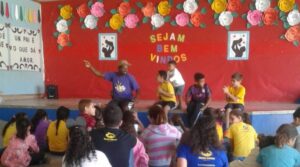 ---
---