Celebrating a Life Well Lived – T Ladson Webb III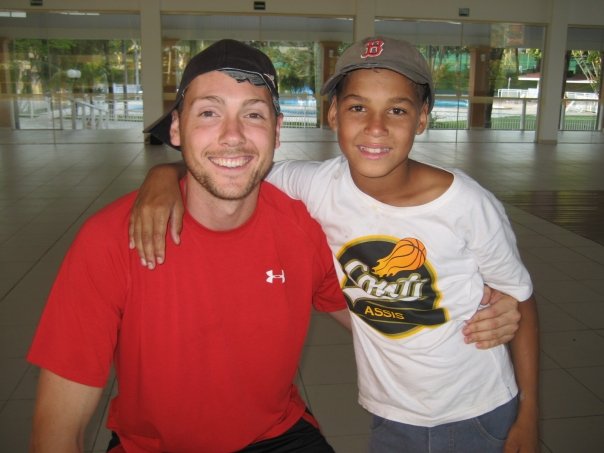 Early Thursday morning, June 30, 2022, our dear friend and brother in Christ, Thomas Ladson Webb III "Ladson", went home to be with the LORD after a courageous 30-month battle with ALS.
You can read Ladson's obituary HERE
Ladson's life left an indelible mark on this mission. In 2008 Ladson went to Brazil on a short-term mission trip with Mclean Bible Church to serve what was then called, Open Arms Brazil. He spent a week playing with the children, helping plant grass on a soccer field for their use, and sharing the love of Jesus in a thousand other small ways. Even though his arms (and everyone else's) were covered with fire ant bites from lifting sod, Ladson's energy and sense of humor seemed limitless. His warm smile and playful spirit drew the kids like a magnet.
Ladson returned from Brazil on fire for the mission. Initially he thought that this meant he would relocate to Brazil full-time as a missionary. He even went so far as to sell one of his prize cars in preparation for his departure. But the Lord had other plans. In 2009 during a visit home to the States, I met with Ladson at a coffee shop to talk about the mission. What he shared with me there would alter the direction of Open Arms up to this day.
At the time we were so small that we didn't even have our own 501c3 status, but worked under the umbrella of a larger organization. This was great for a time, but Ladson could see that we had outgrown this arrangement. Not only did he see the need, but he also had a solution. He would lead us through the process of gaining our own 501c3 status and everything that that entailed. Once he had sold me on the idea, he went to work immediately. After months of working with a law firm that he had found and convinced to do the work Pro Bono, selecting a Board of Directors, approving pages of by-laws, and filings with the IRS and the State of Virginia, Open Arms Worldwide came to life on October 18, 2010.
Ladson served as the founding Chairman of the Board for 5 years, from 2010 to 2014 during which time he oversaw the transition of Open Arms Worldwide from a mission with two full-time missionaries in the field to a team of 8 in three different states in Brazil. The joy and energy that he brought to my life and to the Open Arms family, are still felt and will be part of our DNA for as long as this organization exists. We will miss our brother terribly for now, but we know that he is resting in Christ, and in the blink of an eye we will be together in fellowship again; laughing, playing, and glorifying God together.
To our growing Open Arms Worldwide family, I ask that you pray for Ladson's wife Xandria, his son and daughter, Ladson IV and Schuyler Grace. They need all the love and support that we can muster.
I am certain that my brother has heard that which we all long to hear from the Lord, "Well done my good and faithful servant! Enter into the joy of your master!"
We will miss you Ladson. See you soon my brother.
Grace & Peace in Christ,
Mike Meyers
Founder & Executive Director
Open Arms Worldwide
---
---