Field Report: Brazil Camp 2016!
"You have turned my mourning into joyful dancing." Psalm 30:11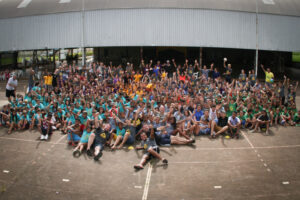 In January we held our largest ever camp in our headquarters city of Assis inBrazil. 350 children (5-16 years of age) and 100 volunteers from 7 of our community ministry locations came together for worship, games (many of them in the rain and mud), arts, lots of good food, and a series of messages on the life transforming work of Jesus Christ.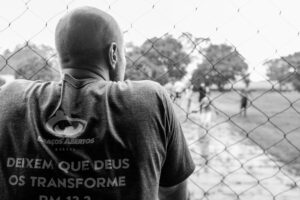 Joining our Brazilian volunteers was a team of 15 Americans representing four different congregations in the DC Metro area.  More than 100 children made a first time profession of faith in Christ and many, many more were ministered to in powerful ways through the preaching of the Word and prayer. Their weeping was quite literally turned into dancing.
Our theme for camp came out of Romans 12.  "Be transformed by the renewing of your mind."  The children arrived looking skeptical and hard of heart.  The early hours of camp involved several discipline problems ranging from vandalism to physical altercations.  The real world for most of the children at camp is one of family disintegration, abuse, addiction, violence, and material and emotional poverty.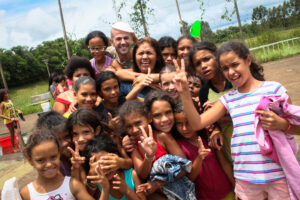 Our aim for camp was to break through the fog of that reality with the ultimate reality of Christ and the power He has to transform lives, families, and communities.
We began with what God has placed before us all, a choice between life and death.  The wages of sin is death, and what does that death look like in our world?  The children helped me answer the question.  They see it every day in parents who don't stay together, sexual abuse, drug and alcohol addiction, loved ones in prison, violence, hunger, and despair. These things are what the thief, the devil, has come to do, namely "to steal, to kill, and to destroy."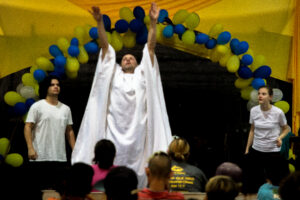 But life is found in Jesus.  After a powerful drama presented by our U.S. team and an equally powerful testimony that followed, they were given the very palpable choice; life or death?  More than 100 children chose life in Christ for the first time that night.
The next morning, change was already becoming evident and continued through the day.  Open Arms missionary, Eduardo Ribeiro, whose life story mirrors that of many of the children there, spoke on allowing God to enter in to your life and remove the garbage that has accumulated there because of sin, because of the hurtful acts of others, and to release those hurts to Christ and his power in forgiveness.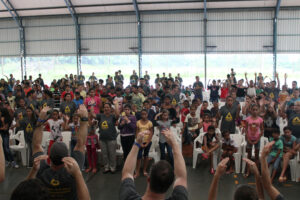 In the evening a dance group made up of girls from one Open Arms outreach, presented a routine to highlight the problem of child sexual abuse.  Following their presentation one of our missionaries shared his personal testimony of being abused as a child and how he had held on to that shame and allowed it to keep him from God.  Scanning the children's faces you could see the tears.  The volunteers came forward and an invitation was given to anyone who wanted someone to pray with them.  The response was staggering.  Hardly a child stayed in their chair.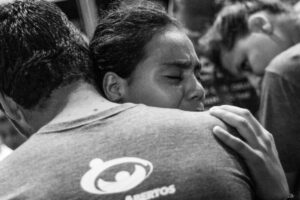 The prayers and tears went on for half an hour or more.  One little child came forward afterward to tell a volunteer that as everyone was praying they looked up and saw angels.  I can't say that I saw anything, but the presence of God was tangible in the room.  Eventually the praying and hugs wound down and the worship team began to play and soon the most awesome time of singing and dancing before the Lord broke out.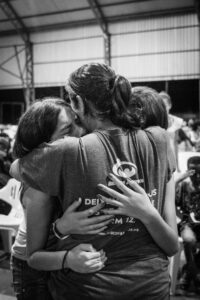 We were all privileged to see God's work of transformation take place over a very short time, and while we recognize that it is a lifelong process with ups and downs, we can be confident of this, that He who began a good work in the children at camp will carry it on until Christ Jesus returns.
Our team is especially thankful to the many, many people who gave toward team expenses, to sponsor children at camp (all 350 were sponsored), and materials for the work.  You all were there with us and we thank you for it!
---
Team Quotes and Stories
"What I witnessed was a  group of 400 people, not knowing one another, coming from different walks of life, speaking different languages, living in different cultures, suffering through different trials, all transformed into one single unit, loving one another with such passion and genuine concern for one another; a selfless love expecting nothing in return.  Only the power of God can do that!"  – Linda – Team member from Immanuel Bible Church in Springfield, VA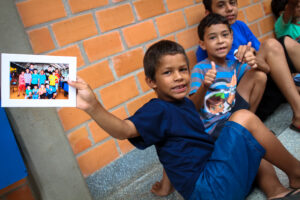 "I asked God to let me be a blessing to the children in Assis, but how He answered was by having the children be such a blessing to me." – Leigh Ann – Team member from Reston Bible Church in Sterling, VA
 The power of prayer
"I felt a calling from God to pray for 2 young girls after Eduardo's talk on the 2nd night.  I had seen them earlier in the day, and they both looked so sad.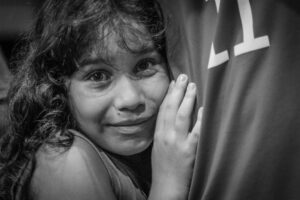 I placed my hands on their heads, praying in English, and looking up afterwards through my tear filled eyes to see them both weeping and then them hugging me like they were my own daughters.  It was amazing, and I'll never forget it."
---
No Greater Joy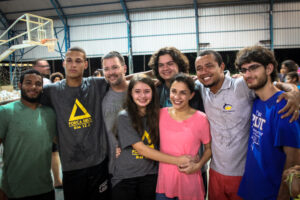 Our family was so blessed to have our extended family in one place for the first time in many years.  "Our boys" as Patricia likes to call them, Eduardo, Lucas, and Ronaldo were all there.   All three of our birth kids were with us as well.  It was a powerful week for us all.   Ronaldo, who was one of our most difficult children when the ministry started back in 2006, made a surprise appearance.  We invested a tremendous amount of time and prayer into this young man and Eduardo eventually led him to Jesus.  That was several years ago and sadly Ronaldo had dropped out of sight, fallen into the life of petty crime that surrounds him in his neighborhood and was close to death on at least 3 occasions.   He reappeared at camp, a man.  After a rough start and a sweet time of prayer with me, Eduardo, and Neto, his demeanor began to change.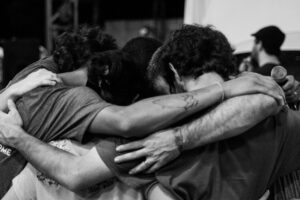 By the end of camp he was leading a small group of boys in reading from the Word (he borrowed my Bible every night and stayed up reading it until early in the morning).  Eduardo, who lived off and on in our home right after he came to Christ, is now one of our missionaries, is married to a lovely young woman named Claudia, has graduated college, and is the Vice-President of Open Arms in Brazil, led camp and did an amazing job.  It was thrilling to sit back and watch him work and see the many, many young people that he has led to Jesus there serving and ministering to the kids.  Finally Lucas, our other unofficially adopted son was able to come to camp only in the evenings because he has a full-time job!  Lucas recently graduated high school and is looking at attending law school in the fall.  Young Michael, Raphael, and Bela served all week translating, acting in skits, and doing whatever else was asked of them with great joy.  As parents we wish these young people could understand fully how they have blessed our lives.  With the apostle John, Patricia and I say, "I have no greater joy than to hear that my children are walking in the truth."  3 John 4
Linda's princess treatment
On the evening of day one of camp Linda shared her testimony of coming to faith in Christ out of circumstances not very different from what many of the children have experienced.  She had been raised by a strong single mother who she looked up to very much, but struggled to fill the void in her life left by the father she didn't know, until she found Jesus.  As she ended the room was very quiet, which is extraordinary for 350 kids, and then she added that just the day before, while we were setting up camp, she had gotten word that her mother had passed away after a long struggle with illness.  Linda said that while her heart was broken and that part of her wished she could have been there, she knew that God wanted her exactly where she was to share the l ove of the Father with them.  There wasn't a dry eye in the house.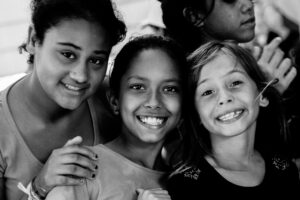 When she arrived in her room to sleep that night the girls in her group had made her bed for her and, since they couldn't decide who would get to put their mattress next to hers, they had placed her mattress in the middle of the room and arranged theirs in a circle around her.  They even tucked her in to bed!  The next day Linda said how sweet and humbling it was to be treated like a princess by her girls who cared so deeply about her pain.
"One of the things that the Lord made clear to me on this trip was that our team was part of a much larger work He is doing in Assis and across Brazil. Even though our time with the children was brief, it was clear the Lord is using short-term Open Arms teams to weave together a much larger redemptive work in the hearts of at-risk Brazilian children. Story after story after story arose of once-hopeless children rescued by Christ, who then return as adult leaders to show other children the glory of the Gospel. What a joy to see the ripple effects of the Gospel of Jesus Christ spread out through generations of "the least of these."  – Jason from Reston Bible Church
---
---