3rd Annual Open Arms Camp Report – "I am Free!"
"So if the Son makes you free, you will be free indeed." John 8:36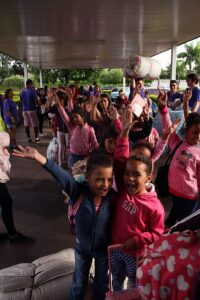 In January we held our 3rd annual camp in our headquarters city of Assis in Brazil. There were 320 children and 120 volunteers from our community ministry programs, along with a great team of volunteers from four churches the US.  They all came together for worship, games, arts, lots of good food, and a series of messages on the life transforming work of Jesus Christ.
Our theme this year, "I am Free" or "Livre Sou!" in Portuguese, was particularly impactful for these kids who almost all have a close loved one in prison.  Our teachers and small group leaders aimed to encourage them to turn to Jesus for true freedom and, once freed by the Son, not to let themselves become imprisoned again in the temptations of the world around them.  It was a powerful time of exhortation, confession, and forgiveness for so many of these young people.
Thanks to the generous gifts of our donors, every single child was sponsored for camp.  It is the sacrificial gifts of God's people that continue to allow us to be the "open arms" of Jesus to children who are in desperate need of the hope that only He can give.  We thank God for our partners in this ministry.
Livre Sou! I am free! #openarmscamp2018

Posted by Open Arms Worldwide on Friday, January 19, 2018
---
---