10 Year Anniversary Party and You're Invited!
Whether you've been a part of the Open Arms family for a long time or you are just checking us out, you are invited to join us at our 10-Year Anniversary Gala!
We'll be joined by three Open Arms missionaries from Brazil to encourage us with their testimonies and be encouraged by our fellowship with them.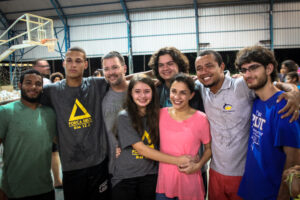 For 10 years Open Arms has been bringing hope to children who live in under-served and forgotten communities in Brazil and here at home – Together we can carry that Hope to many thousands more children in our next 10 years.
What began in one small community in the interior of Brazil, today has been replicated in 12 communities across 3 states in Brazil, and serves more than 1,000 children weekly.  Since 2013 OAW has also worked with local churches and schools in our headquarters city of Sterling Virginia.
Christian hope is the distinctive of Open Arms and the catalyst that sets life transformation into motion.  The Christian faith instills a hope that is not dependent on physical circumstances, and results in resiliency, perseverance, healthy socialization, a sense of history, community and belonging, and strong moral and civic character.  These are exactly the attributes  that these children require if they are to overcome the obstacles before them and fulfill their God-given potential.  
Please join us on Friday, September 30th for an elegant evening of great food, music, friendship, and inspiration as we celebrate 10 years of Open Arms Worldwide, 10 years of hope! 

---
---